Home / Blog / Tips /
what is a release? A press release, or release, is an official statement by a company to the public with the intention of disclosing some material fact about its business. So, learn more about a release, how to write, and more.
Knowing that this topic is a question for many professionals and for many companies, in this article we will talk about:
Many companies fail to invest in good releases because they think that this means of communication it's dead, when in fact it's just not being well exploited.
We usually think of a release as a communication sent to newspapers, magazines, radio stations and television stations. Currently, they are also sent to influential bloggers and other online media outlets.
Thinking about the importance of the release and how it has been developing in the market, see how it works and the main information about a release.



What does the release mean?
A press release is a brief piece of news or summary, alerting the media to your business's news and activities.
Therefore, the main purpose of a release should be to promote something, be it an event, an award or a change in your company.
How to send a release to the media does not necessarily mean it will be published. As such, press releases cannot be considered a guaranteed marketing tool.
Hire our press office!
When hiring a press office, your business gains credibility, having greater visibility in the market, thus building authority and much more. In this way, do not waste time and have your company well positioned in the market in which it operates. So, what are you waiting for to get ahead of your competitors and have great occupation in the market?
Talk to an expert
What is a release: How to make a release?
Now that you know what is a release, see how to do it. So if you can get the media interested in what your company has to say, they will write stories and produce content about your product or service.
Therefore, a release should be simple and short and preferably in a format that allows copying and pasting. In addition, journalists receive dozens of press releases every day, and if they have to read and edit a very long piece of text, they can give up before it even starts. So a good release should be clear and to the point, without rambling on about it.
It is important to note that journalists prefer releases that are relevant to their audience. Business journalists, for example, sought out press releases about corporate mergers, while consumer-centric media prioritized stories about the latest product launches.
What is a release: Examples of releases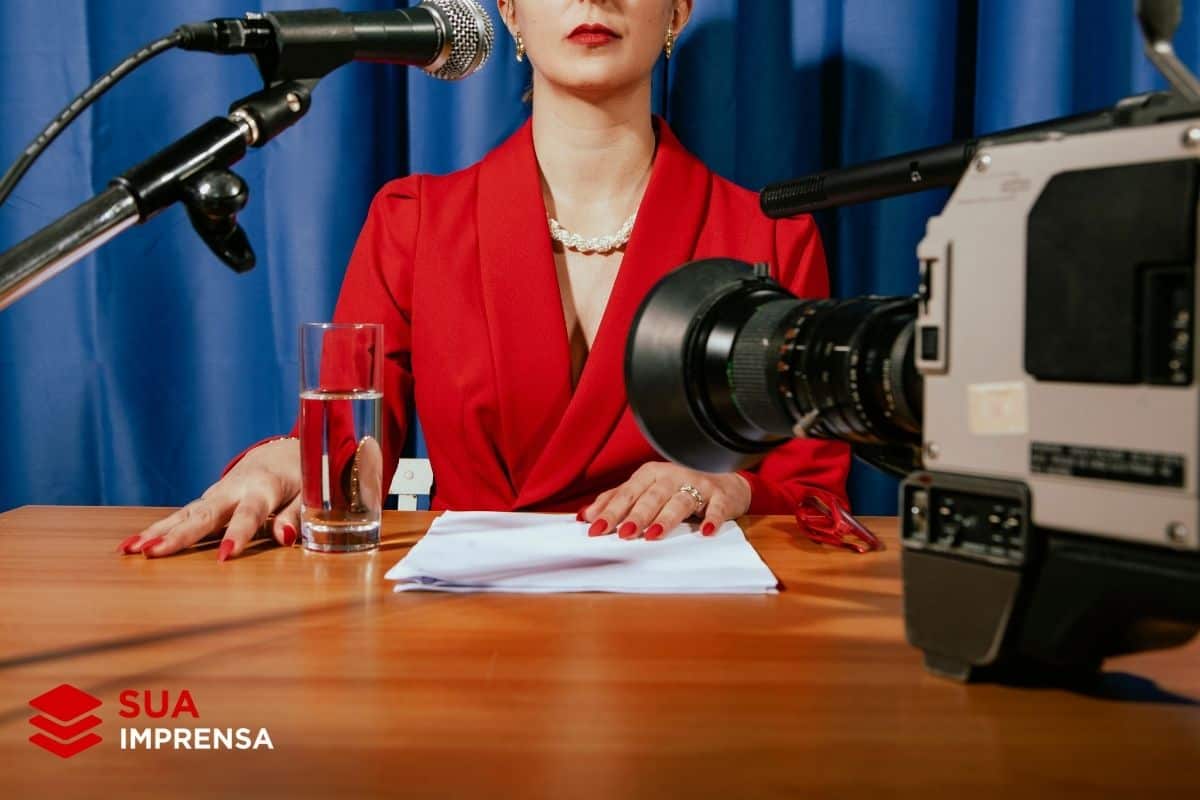 product launches
Communicating to the press about a product launch is important to publicize the new solutions your company is offering to your consumers.
Therefore, the release in this case should emphasize product specifications, price, availability, and any other details that may be of interest to the consumer.
Fusions and acquisitions
Informing the public about changes in a company's organizational structure is critical. After all, it is essential to maintain the trust of consumers and shareholders.
product updates
Similar to a new product launch, product updates and expansions should also be communicated to the press.
In this way, knowing what is a release and how to do it, it is important that you explain what the change is, why it was made and how it benefits the user.
What is a release: Events
Releases about an event your company will be offering or participating in are key to attracting other types of media unconventional for the coverage of this event.
Grand Openings
If you've opened a new branch or moved your business to a larger, more spacious location, please announce the details in a press release.
So let us know the reason for the move, the date and location of the grand opening, and the impact this grand opening will have on your profits.
New partnerships
Similar to mergers and acquisitions, a press release announcing new partnerships is a mutually beneficial marketing tactic.
So, to execute this type of release effectively, be sure to write a summary about each company. Also, state why the partnership was created, who benefits, and any additional details important to current and future stakeholders.
Reformulation
Rebranding It's a difficult thing for any business, and it can occasionally result in confusion and embarrassment.
So, one way to make the transition smoother is to announce the brand change in a press release, including details about what is changing, the reason for the change, the dates the changes take effect, and those responsible for the transition.
Executive team changes
Executives often serve as the faces of the company, so it is always imperative to communicate to the press any relevant changes at the highest level.
Additionally, the release may include biographical information to establish credibility, along with a photo and other pertinent details.
Awards
When it comes to business excellence, it's okay to brag. After all, awards and achievement releases serve to consolidate your organization as an authority in its field.
This press release includes information about the company and why they received the award, information about the award itself, and details about the ceremony.
How to write a release?
Now that you know what is a release, it's time to start writing. To begin with, you must have a purpose for writing and sending a release.
Also, you need to write about interesting topics that caught people's attention, like a special event or a new product/feature to be released.
The most effective releases include a headline that encourages journalists to keep reading, as well as concise text that answers any questions a journalist might have.
1. Evaluate the theme
The first step is to recognize and assess whether the topic is relevant. After all, the purpose of a press release is to inform the public of relevant facts, not bore them with bullshit.
2. Emphasize what makes your release important
What in your release will grab people's attention? Why is it important to the community? Why should they care? So, emphasize one or two of the basic elements above when writing your release.
3. Write a clear title
The title of your release is the part you expect to appear on the front page of the news outlet. So the headline should be clear, catchy, jargon-free and focused on the main message you want to convey.
Ideally, just by reading the headline, journalists (and readers) can get a complete idea of ​​what the news is about.
4. Insert important information in the first paragraph
After the headline, the first paragraph of a release should answer the 5W+1H questions: who, what, where, when, why and how. Today, the average person's attention span is just eight seconds. Therefore, it is important to provide all important information immediately.
5. Enter quotes
A great press release always has relevant quotes from company spokespeople and subject matter experts.
The media is generally interested in hearing the opinion of public figures. So use that to your advantage and focus on including citing at least one authority on the subject when creating a release.
6. Use data
To make your press release complete, be sure to add background information about your topic.
By providing the industry overview upfront to the journalist, you can do half the work for them. This is often overlooked, but providing this kind of data is one of the easiest ways to make your release look more realistic and not blatantly promotional.
7. Use SEO techniques
You'll also want to make sure your release appears among the top results of search engines. To do this, use subheadings, keywords, and backlinks for content that people might want to know more about after reading your press release.
What is a release: Tips when making a release
look for feedback
Reach out to everyone you've sent a release to to increase your chances of getting coverage. So when following up with the reporter, be sure to include any breaking news that wasn't added to your release and ask for their personal opinion of the release and if you have any feedback.
Don't forget images, videos and infographics
Also, be sure to include multimedia like photos, videos, or infographics with your release. Not only communications from press with multimedia experience higher engagement rates, as customers and media are more likely to share their content via social networks.
Hire our press office!
When hiring a press office, your business gains credibility, having greater visibility in the market, thus building authority and much more. In this way, do not waste time and have your company well positioned in the market in which it operates. So, what are you waiting for to get ahead of your competitors and have great occupation in the market?
Talk to an expert